Easy-to-use has never looked as good as it does in the Legend family of casement and awning windows. With the weather-resistant strength of cellular PVC, these windows offer a guarantee against rotting, warping, swelling and other age and weather related problems. Energy efficiency is heightened through the use of our two-inch thick sash and silicone glazing method, meaning you'll feel the difference in your home and see the difference in your energy bills. 
These advantages come with easy operation thanks to our adjustable hinge system and single lever multi-point lock, making opening and closing the windows a breeze and allowing you to let in the light and the outdoor air for a bright, fresh feel in your home.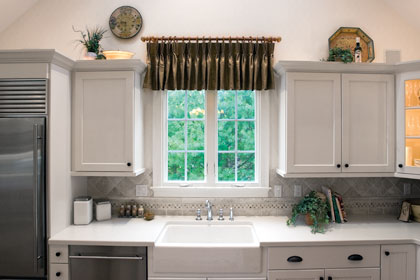 Legend frame and CPVC/wood sash

2" thick sash adds beauty and increases insulating value
Single lever multi-point lock for easy operation and clean appearance
Adjustable hinge system ensures smooth operation
CPVC may be painted. However, the color must have an LRV rating of 50 or greater (no dark colors).