Get the best of both worlds. Blending the strength of the Legend CPVC frame with a wood clad sash, Legend HBR from Windsor represents the next advancement in hybrid window and door technology. Beautiful wood craftsmanship and the paintable exterior cellular PVC frame make Legend HBR a versatile choice for use for replacement, new construction or historical applications.
Available with a host of features, including cellular PVC blind stops, extruded wood clad sash in anodized finish or standard, feature or custom colors. Additionally, Legend HBR sash and frame colors can be contrasted and rough openings are identical to those of standard Legend windows, giving you the flexibility to mix and match styles and colors to complement your design vision. Legend HBR offerings come in casement and awning, double hung, direct set and radius windows, and swinging and sliding patio doors.
Bring home the traditional styling of real wood and the peace of mind provided by durable cellular PVC with Legend HBR.
Click here to find warranty information and installation instructions.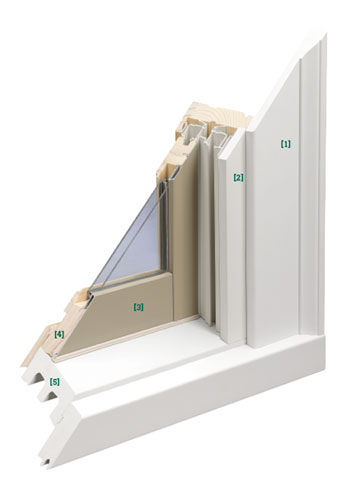 See What Sets Legend HBR Apart
[1] 4-1/2" backband casing with bull nose sill nose shown.
[2] Cellular PVC traditional blind stop.
[3] Extruded aluminum sash offered in 22 standard colors, 20 feature colors or eight anodized finishes. Custom color matching is also available. Tan cladding shown.
[4] Interior frame and sash available in Clear Select Pine, primed or painted white.
[5] Cellular PVC exterior frame comes in white factory-applied finish (shown) and can easily be painted.